Looking to add some flavor and spice to your shrimp dishes? Look no further than Jibro Foods' Valacha Shrimp Seasoning for the perfect blend of herbs and spices. Get ready for a unique, delicious experience with this traditional seasoning – buy directly from us today!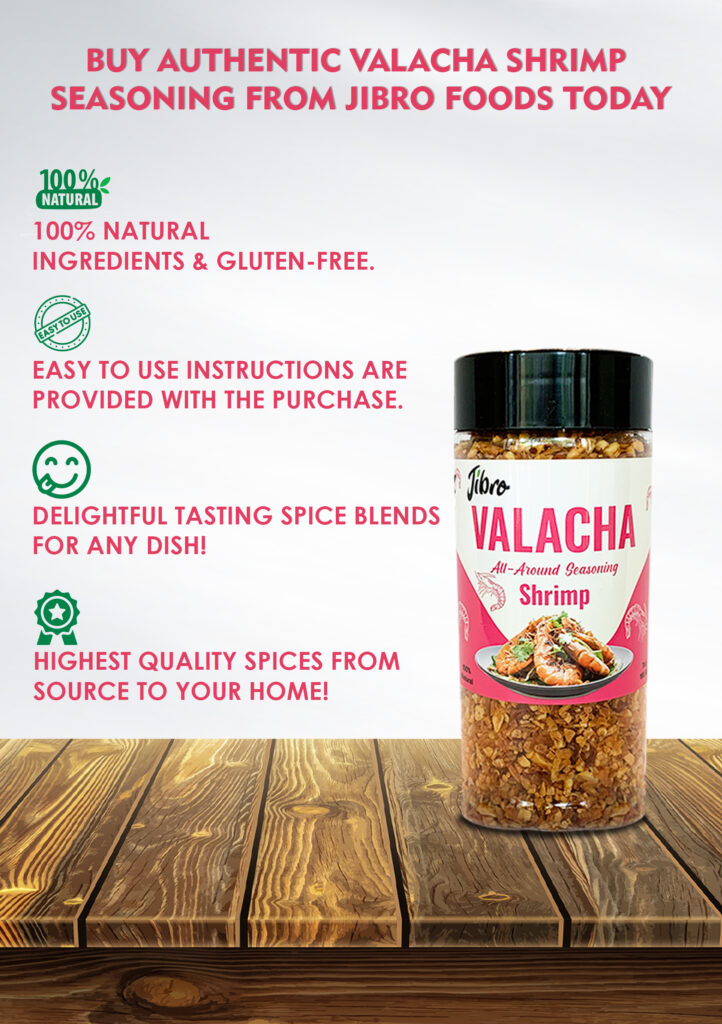 100% Natural Ingredients & Gluten-Free.
All of the ingredients in Jibro Foods' Valacha Shrimp Seasoning are natural and certified gluten-free. That means you can enjoy a delicious and healthy shrimp dish with peace of mind, knowing that all of our spices and herbs are free from artificial preservatives and other chemicals. Enjoy 100% natural taste with every bite!
Easy to Use Instructions are Provided with the Purchase.
Don't worry about spending hours trying to create the perfect shrimp dish with Valacha Shrimp Seasoning. Jibro Foods provides full instructions along with your purchase that makes it easy to prepare delicious, flavorful shrimp every time. With our exclusive blend of spices and herbs, you're sure to get maximum flavor without all the work!
Delightful Tasting Spice Blends for Any Dish!
Our Valacha Shrimp Seasoning blend will give any shrimp dish that zesty, delightful flavor you've been searching for. Add our blend to shrimp boil or even sprinkle it on boiled corn for a unique flavor experience. From soups and salads to casseroles and baked dishes, our selection of spice blends is perfect for any kind of seafood preparation.
Highest Quality Spices From Source to Your Home!
At Jibro Foods, we bring you only the highest quality of ingredients in all our products. Our Valacha Shrimp Seasoning blend is made from the freshest premium spices and herbs, combined with a unique mix of savory flavors specifically crafted to make your shrimp dishes pop! Buy a bottle today and experience the authentic traditional taste of Valacha Shrimp Seasoning.
You may also like: Seasoning Greetings of Valacha: Shrimp, Chicken, and Vegan