Looking to spice up your vegan cooking? Look no further than Valacha Vegan Seasoning— a unique blend of herbs, spices, and one simple ingredient that will add a flavorful kick to any vegan dish. Make healthy, delicious meals without sacrificing flavor with Valacha Vegan Seasoning.
Learn What Makes Valacha Vegan Seasoning Unique.
Valacha Vegan Seasoning is a healthy, flavorful one-ingredient solution that takes your vegan cooking to the next level. With carefully selected herbs and spices like red pepper, ground ginger, and turmeric, it adds an unmistakable flavor without compromising nutrition. It's also gluten-free and made with all-natural ingredients. Use it in soups, salads, and stir fry for a wholesome meal with plenty of zings.
Explore How to Enhance Classic Dishes with Valacha.
Valacha Vegan Seasoning is the perfect way to give an extra kick of flavor to your favorite recipes. Try adding it to hearty soups and stews for a warm, wintery meal, or use it as a seasoning for stir-fries, curries, risottos, and more. Sprinkle it on top of salads for some extra crunch and add it to sandwiches, wraps, and burgers for a delicious boost of nutrition. Enjoy the tastes you love with Valacha Vegan Seasoning today!
Try Combining Different Flavors for Delicious Results.
With Valacha Vegan Seasoning, it's easy to come up with a variety of delicious combinations. Try combining different flavors for a unique twist on classic dishes. Add the seasoning to grilled vegetables, roasted potatoes, quinoa salads and so much more. Experiment with different ingredients and find out what works best for you! Spice up your vegan meals with Valacha Vegan Seasoning and enjoy healthy, flavorful results every time.
Discover Ways to Incorporate Valacha Into Everyday Meals.
Valacha is the perfect addition to a variety of dishes. Try using it for tacos, burritos, and fajitas. Add a bit of steamed or boiled vegetables for a boost of flavor. Sprinkle it over salads and grains or mix it into various pasta dishes too. You can also use Valacha to season baked tofu, tempeh, and seitan. Satisfy your cravings without compromising nutrition with Valacha Vegan Seasoning!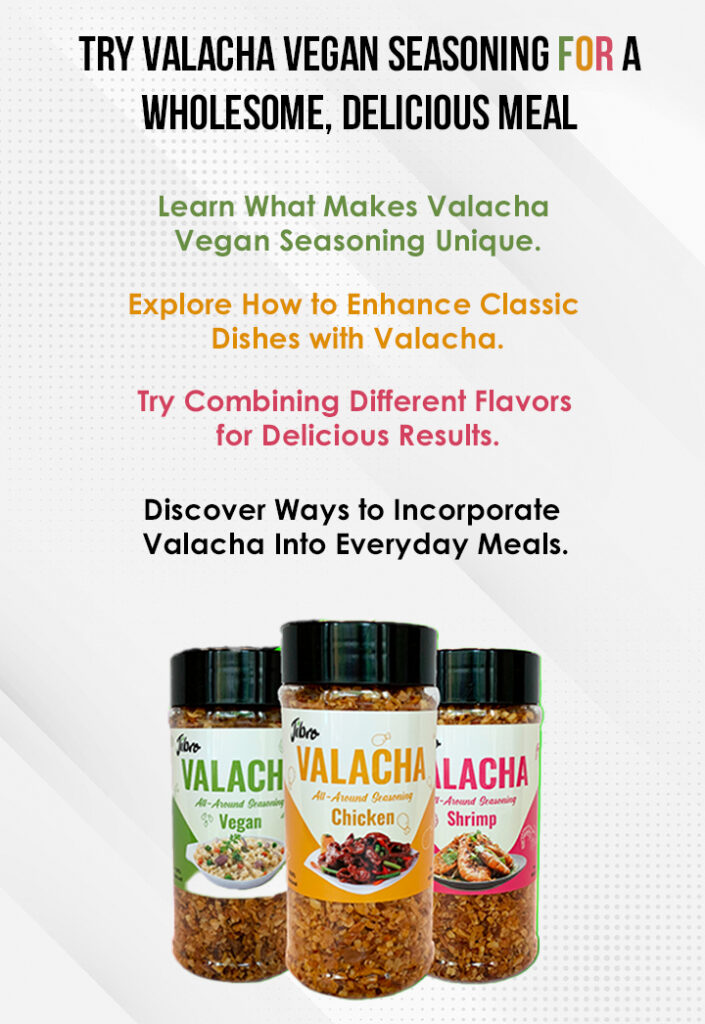 Learn Tips and Tricks From Our Expert Chefs on Using Valacha Vegan Seasoning
Our expert chefs are always happy to give tips and tricks on getting the most out of Valacha Vegan Seasoning. From subtle details that create more layers of flavor to adding a little kick with hot peppers – they will share everything you need to know. Learn how to make vegan dishes that are satisfying, tasty, and nutritious – with Valacha Vegan Seasoning!