Introduction:
In the world of culinary delights, few ingredients can match the sheer versatility and mouth watering flavors of cultured ghee. And when it comes to sourcing the finest quality ghee, Jibro Foods stands out as a trusted name. If you're seeking to elevate your cooking experience and unlock a world of authentic taste, it's time to order cultured ghee online from Jibro Foods.
Experience the Richness of Cultured Ghee from Jibro Foods
At Jibro Foods, we understand the importance of exceptional taste and uncompromising quality. Our cultured ghee is meticulously handcrafted using traditional methods, ensuring that every jar embodies the essence of purity and richness. Made from carefully sourced ingredients, our ghee undergoes a unique culturing process that enhances its flavors and nutritional profile.
When you choose Jibro Foods, you're not just ordering ghee; you're indulging in a culinary experience like no other. Our ghee boasts a delightful aroma, a creamy texture, and a buttery taste that adds depth and complexity to any dish. Whether you're sauteing vegetables, baking pastries, or simply spreading it on warm bread, Jibro Foods' cultured ghee is a game-changer in the kitchen.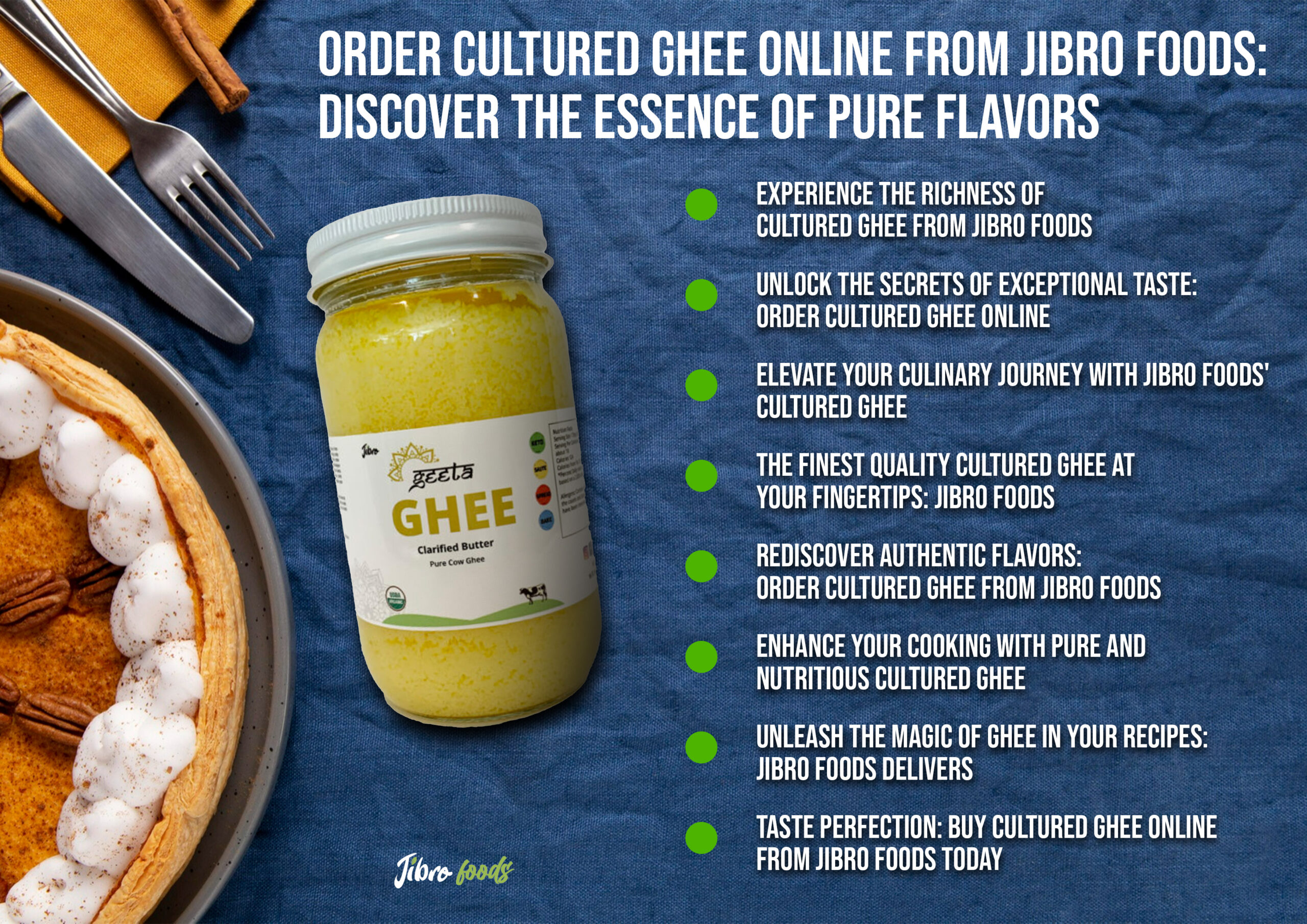 Unlock the Secrets of Exceptional Taste: Order Cultured Ghee Online
In today's fast-paced world, convenience plays a vital role in our lives. That's why Jibro Foods offers the convenience of ordering cultured ghee online, right from the comfort of your home. With just a few clicks, you can have our premium ghee delivered to your doorstep, ready to elevate your cooking to new heights.
When you order from Jibro Foods, you're not only getting a high-quality product but also gaining access to a wealth of knowledge. Our website is a treasure trove of recipes, cooking tips, and information about the benefits of cultured ghee. We believe that sharing our expertise enhances your culinary journey, helping you create memorable meals infused with the magic of ghee.
Elevate Your Culinary Journey with Jibro Foods' Cultured Ghee
At Jibro Foods, we take immense pride in our commitment to quality. Our cultured ghee is made from the purest ingredients, sourced from trusted farmers who share our passion for excellence. We believe in supporting sustainable practices and ethical sourcing, ensuring that every jar of ghee is a testament to our values.
When you incorporate Jibro Foods' cultured ghee into your cooking, you're embracing the essence of purity and flavor. Our ghee is rich in essential nutrients and healthy fats, offering a multitude of health benefits. From boosting digestion to enhancing the absorption of nutrients, our ghee is a wholesome addition to your diet.
The Finest Quality Cultured Ghee at Your Fingertips: Jibro Foods
Finding high-quality cultured ghee can be a challenge, but Jibro Foods simplifies the process. With our user-friendly website, you can easily browse our selection, read customer reviews, and make an informed choice. We take pride in our commitment to customer satisfaction, ensuring that every jar of ghee exceeds your expectations.
When you order from Jibro Foods, you can trust that our ghee is free from additives, preservatives, and artificial flavors. We prioritize transparency and believe in fostering a lasting relationship with our customers, built on trust and integrity. Discover the difference of our finest quality ghee and elevate your culinary creations to new heights.
Rediscover Authentic Flavors: Order Cultured Ghee from Jibro Foods
In a world dominated by mass-produced food, Jibro Foods takes a step back in time, embracing traditional methods to create authentic flavors. Our cultured ghee is a celebration of age-old techniques, ensuring that each jar carries the legacy of generations. When you taste our ghee, you'll experience the richness and authenticity that modern food often lacks.
By ordering cultured ghee from Jibro Foods, you're not just adding a product to your pantry; you're rediscovering the magic of flavors passed down through time. Our ghee enhances the taste of your favorite recipes, infusing them with a touch of nostalgia and a depth of character that only artisanal products can deliver.
Enhance Your Cooking with Pure and Nutritious Cultured Ghee
Nutrition plays a pivotal role in our overall well-being, and Jibro Foods recognizes the importance of nourishing your body with the right ingredients. Our cultured ghee is not only a delight for your taste buds but also a source of essential nutrients. Packed with vitamins, antioxidants, and healthy fats, our ghee supports a healthy lifestyle.
When you cook with Jibro Foods' cultured ghee, you're elevating your dishes to a whole new level of goodness. The high smoke point of ghee makes it ideal for sauteing, frying, and baking, imparting a delicate, nutty flavor to your creations. With our ghee, you can unleash your culinary creativity and nourish yourself with every bite.
Unleash the Magic of Ghee in Your Recipes: Jibro Foods Delivers
At Jibro Foods, we believe that cooking is an art form, and our cultured ghee is the brush that adds depth and magic to your creations. Our team of experts is dedicated to ensuring that every jar of ghee delivers the utmost quality and taste. We understand that exceptional ingredients are the foundation of extraordinary meals.
When you choose Jibro Foods, you're not just buying a product; you're joining a community of food enthusiasts who appreciate the finest flavors and culinary craftsmanship. Let our ghee be the secret ingredient that transforms your recipes, leaving your family and friends craving for more.
Taste Perfection: Buy Cultured Ghee Online from Jibro Foods Today
Ready to embark on a culinary journey like no other? Don't wait any longer. Order cultured ghee online from Jibro Foods today and experience the pinnacle of taste, quality, and convenience. With our secure and efficient delivery services, you can savor the pure flavors of ghee in the comfort of your own home.
Unlock the potential of your cooking and treat your senses to the richness of Jibro Foods' cultured ghee. Rediscover the joy of authentic flavors and embark on a culinary adventure that will delight your palate and impress your guests. Elevate your dishes, nurture your health, and indulge in the magic of ghee with Jibro Foods.
Conclusion:
When it comes to ordering cultured ghee online, Jibro Foods is your ultimate destination for excellence. With a commitment to quality, authenticity, and customer satisfaction, we strive to deliver a product that surpasses expectations. Order from Jibro Foods today and discover the true essence of pure flavors in every jar of our meticulously crafted cultured ghee.