Spice up your meals with Valacha Seasoning – Chicken, Shrimp, and Vegan! This unique blend of spices is designed to bring out the flavor in all your dishes, whether they use chicken, shrimp, or vegan ingredients. With just a sprinkle of this special seasoning, you can make ordinary meals extraordinary. Try it out today!
Prepare the Chicken Recipe with Valacha Seasoning
To get started, mix Valacha Seasoning – Chicken with olive oil, balsamic vinegar, and garlic in a large bowl. Then add your choice of diced chicken to the marinade and let sit for 30 minutes. Next, cook the chicken on a preheated grill or skillet until it reaches an internal temperature of 165°F. Serve with freshly cooked veggies or sides and enjoy!
Cook up Delicious Shrimp with Valacha Seasoning
For some delicious shrimp, mix Valacha Seasoning – Shrimp with butter, garlic, parsley, and lemon juice in a large bowl. Then add your favorite peeled and deveined shrimp to the marinade and let sit for 20 minutes. Bake or pan-fry the shrimp until it's pink and firm. Serve with sides of your choice and enjoy!
Enjoy Vegan-Friendly Flavor with Valacha Seasoning
You can easily create a vegan-friendly meal bursting with flavor when you try Valacha Seasoning – Vegan. Mix it with olive oil, garlic, and your favorite herbs, add it to vegetables, tofu or tempeh, and have fun cooking up creative vegan variations of your favorite recipes. Enjoy the sweet and tangy balance of flavors this special seasoning offers!
Perfect Tips to Get the Ideal Balance of Spices
To get the right balance of flavors when using Valacha Seasoning, be mindful of the ingredients and measurements. When blending spices with oil, use 1 to 2 tablespoons of oil per cup of dried herbs and spices. To season vegetables or proteins, start with one teaspoon and add more according to your taste preferences. Remember that you can also adjust the spiciness level by experimenting with different types of chilies. Enjoy the magic!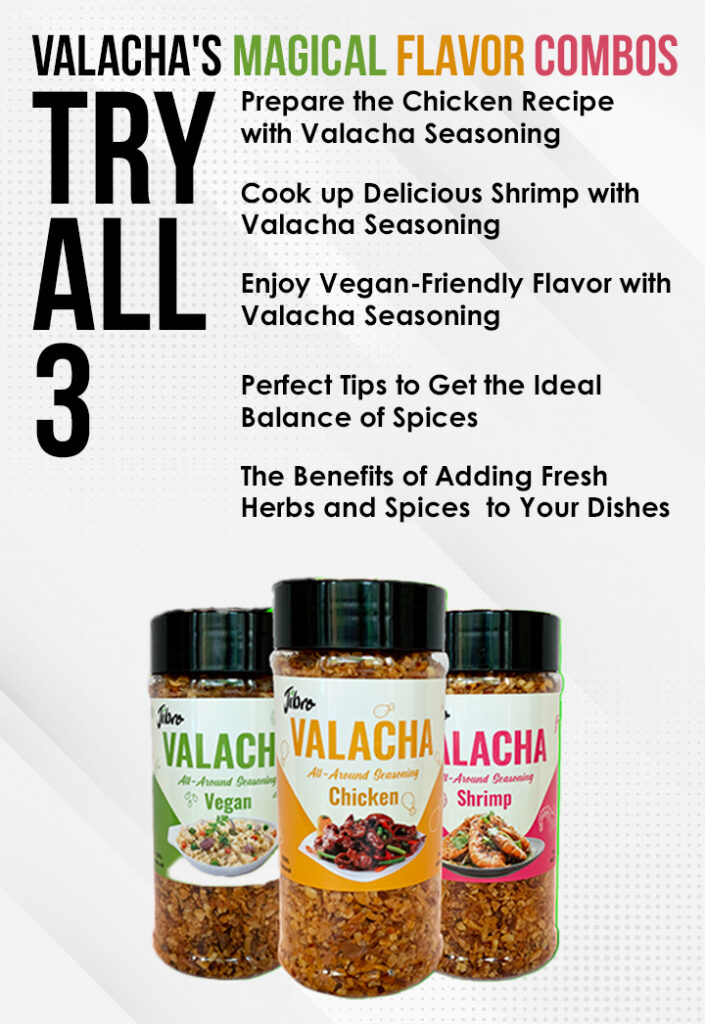 The Benefits of Adding Fresh Herbs and Spices  to Your Dishes
Incorporating fresh herbs and spices into your recipes can add countless layers of flavor, creating unique and memorable dishes. When using fresh herbs and spices, they should be added directly before the food is served to ensure maximum flavor. Even a small amount of seasoning can make a big difference in the overall flavor of a dish, so use liberally – but not too much!